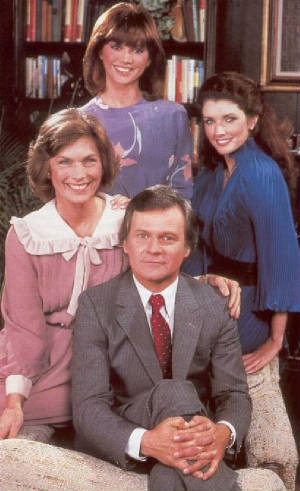 Clockwise from top left: Pamela Barnes Ewing, Katherine Wentworth, Cliff Barnes and Rebecca Barnes Wentworth.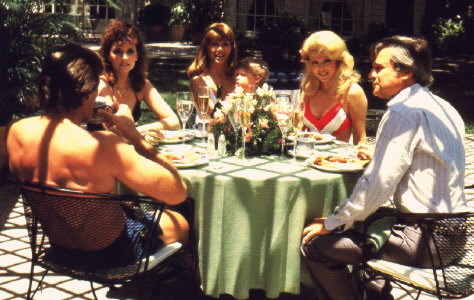 Mark (with back to camera), Katherine, Pam holding Christopher, Afton and Cliff at Pam's house.
Digger and Rebecca:
The Barnes story begins with Willard "Digger" Barnes who was born in Dallas County. His father was a ranch hand on Southfork the home of the Southworths and Ellie Southworth. He fell for Ellie. Ellie however, fell for Jock Ewing his friend from as far back as the 1920's. Digger believed that Jock stole Ellie from him and also that the first strikes of oil that made Ewing Oil were rightfully his. This started what is now called The Barnes- Ewing Feud. After the strikes and Jock's marriage to Ellie, Digger had to find something or someone of his own. In one of his few days of not being drunk he married Rebecca Blake who gave him a son, Tyler. Tyler died at six months of age and after their grief passed they had son, Clifford who was very healthy. At some point Rebecca had an affair with Hutch McKinney the foreman of Southfork. When Rebecca became pregnant with Hutch McKinney's child Digger killed him. (The body would not be found till Ray went to build his house on the Southfork land years later. The baby born of that affair was Pamela Jean Barnes Ewing. She did not know she was not Digger's daughter till his death in 1980. Rebecca ran out on Digger and young Pamela and Cliff. She want to Houston to later marry millionaire, Herbert Wentworth. She had a child, Katherine, but never forgot about her children in Dallas. Back in Dallas Cliff and Pamela were raised by their Aunt Margaret, Digger's sister in the run down part of Dallas while Digger tried to strike it rich in the oil fields.
Katherine:
Daughter of Rebecca and Herbert Wentworth got stuck with the Barnes family later in her life. She hated the whole thing. She hated he mother was married before her father and that she was not her mother's only child. She hated not being her mother's solo star. She loved Pam some what, but wanted Pamela's life with Bobby. Being as evil as JR she did everything she could to break up Bobby and Pam to have him all for herself. She achieved it when they divorced. Still she did not get want she wanted. Bobby had no interest in her. He now wanted Jenna Wade. If she wasn't mad enough about that she was truly mad about having Cliff Barnes as her brother. She hated him. She did everything to bring him down. When her mother died and left Wentworth Industries in thirds, giving one-third to her, one third to Pam and the last to Cliff, Katherine was truly pissed. She left Dallas to come back and kill Bobby. Though her coming back turned out to be a dream of Pam's and Bobby was alive. When Pam was in a car accident a year or so later she came back to kill Pam. After all Pam got Bobby back again and she never got him at all. Katherine was the female JR with a crazier side.
Cliff:
The son of Willard and Rebecca has his own page on this site.
Pamela:
The last memeber of the Barnes clan has her own section on this site. You can reach it from the home page or a link on the Bobby Ewing page.